How Original Black Forest Cuckoo Clocks are made.
Tradition and innovations are the basis of the success of the cuckoo clock. The Germans combine the century-old tradition of the Black Forest clock making with new ideas. Their extensive program is constantly enlarged by new models to maintain the tradition of the Black Forest clock.
Original Black Forest German cuckoo clocks are manufactured not as mass-production clocks, but as hand-assembled masterpieces. Our philosophy is quality, with that in mind we demand the highest quality movement in our clocks, and that is the "regula" movement. Wood-carvings and clock cases, are all produced in the Black Forest of Germany.
Original, Black Forest German cuckoo clocks are known around the world for their quality workmanship.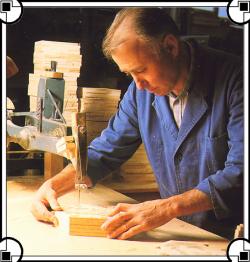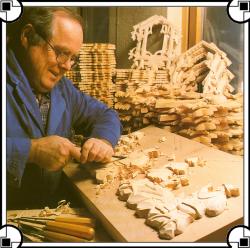 All of our clocks are handmade according to century-old tradition. For example the roof-shingles covering the roof on many of our clocks are cut then clued-on by hand. All wood carvings are hand-made by master carvers in the Black Forest. The wood-carvings for all models are made individually, as well as the assembly of the clocks. The mounting of the carvings is done by hand, the movements, music-boxes and bellows are equally installed by hand into our cuckoo clocks. To guarantee the perfect function of the clocks each one is adjusted and controlled by expert clockmakers before they are shipped.
Have a look at some of the details of our clocks!