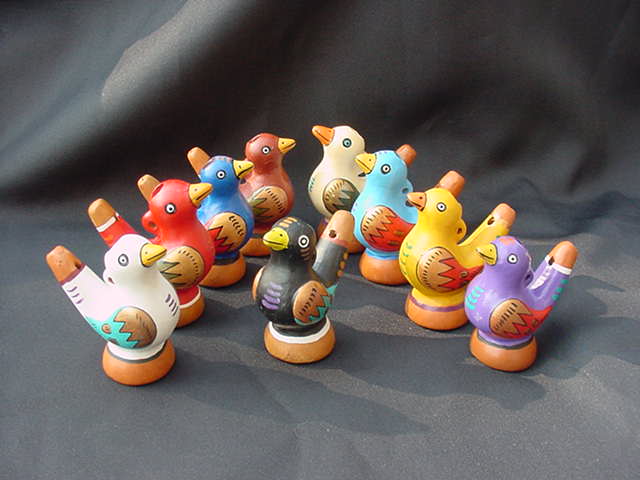 These beautiful water whistles were first introduced to Peru in the days of the Inca.
These wonderful water whistles are handmade with local clay from villages around the Cuzco area and then fired in a traditional pit oven made from stones, straw and wood.
They are then hand painted with acrylic paint using ancient motifs from the Inca and Nazca cultures.
To play this water whistle, fill it up to almost to the top with water. When it is filled to the right level, blowing on the mouthpiece/ tail will produce a beautiful chirping sound. Also, by tipping it while playing will make more different sounds.
This water whistle measures about 3 inches tall. This Peruvian water whistle will make an excellent addition to your musical or bird call collection! Adults and children will love this Peruvian made whistle.
The price is only:
$8.00 Each
$3.00 Shipping + $1.00 For Each Additional Item
Colors you can choose from:
White, Red, Royal Blue, Orange, Tan, Light Blue, Yellow, Purple and Black.
We will always strive to ship your desired color whistle however, a second choice should be noted with your order in the event your original color is out of stock. We order large quanties of all colors however, certain colors (i.e.- red) seem to deplete the quickest. So please give a first and second choice otherwise, our shipping department will have to choose a color for you in the event that we are out of your color choice.